Monthly Archives: July 2017
Detroit resident Kelly Cousins was working for a women's empowerment organization when she became pregnant. Out of all potential employers, she thought, surely they would have some of the more family friendly policies. "I found out that they had no paid maternity leave and no short-term disability," she says. "How is that empowering?"
Her preferred daycare closed two hours before she would get off of work. And with her husband often out of town for his job, she had no choice but to leave her position after the birth of her daughter. "They wouldn't find a way for me to be a mom and work there."
So Cousins found another job. But when her daughter got sick, they weren't understanding, either. "She was out for three days and so was I. [They] said that the punishment was to reduce my hours."
She could no longer afford childcare, so once again, she quit.
Across Detroit, there is a discrepancy of about 27,000 between the number of children in need of quality care and the number of seats available, according to a study by nonprofit consultant IFF. As such, parents must rely on help from family and friends. Others must cut hours or switch to part-time work.
When families are able to find dependable care, they still struggle with cost. The Harvard Business Review reported that the national average for at-home care is $28,354 per year; in-center care is $8,589 per year.
The lack of access to affordable, quality care for young children has a significant effect on the economy.
In Michigan, more than 300,000 women left the workforce between 2001 and 2016, according to the U.S. Bureau of Labor statistics. The rising cost of childcare is keeping workers, especially women, out of the workforce, according to a recent report in Crain's Detroit Business.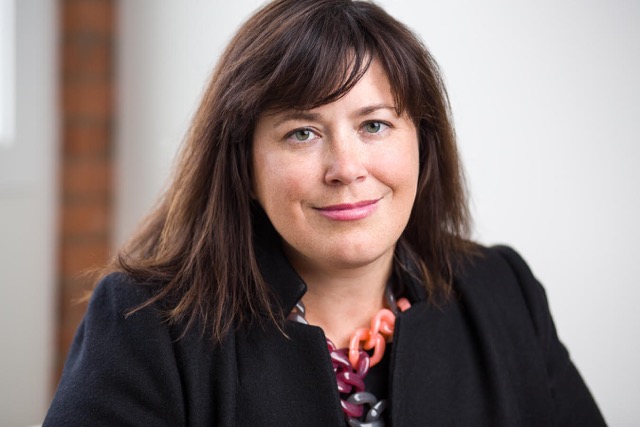 "Our policies, or lack thereof, punish people for having families," says Nicole de Beaufort, founder and president of EarlyWorks, LLC, a consultancy committed to elevating the lives of children, families, and communities.
"We're one of the richest countries in the world. You'd think we would be able to prioritize families because we would see it as our future. Apple just built a billion-dollar facility and there isn't childcare. It's clear that they're not thinking about the quality of life for families."
Detroit, in particular, is at a critical point in its evolution. "If we're not family friendly, it will be really hard to make the argument that this is a world-class city," de Beaufort says.
The financial burden of care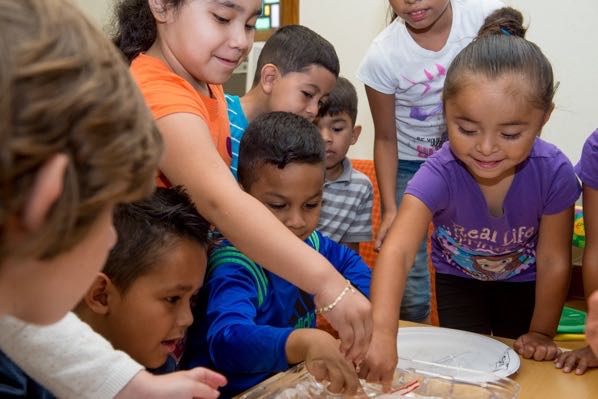 Children gather around a tray of water during a lesson at Brilliant Detroit
Detroit resident Zeljka Minic spends 25 percent of her family's income on daycare for one child. "This is a huge chunk," she says "We're very frugal, but currently we're living paycheck to paycheck. It feels wrong to be taken advantage of for having children."
Minic says that if they want to avoid debt they will either need to find cheaper childcare or she will need to stay at home. "[My husband and I] both have the highest educational degrees but zero job security. It's depressing."
Nationally, families pay 60 percent of early care costs. Local, state, and federal governments pay 39 percent, and the private sector pays the remaining one percent, according to The Institute for a Competitive Workforce.
Ric DeVore, PNC regional president for Detroit and Southeast Michigan, believes that needs to change. The company is one of only a few to support early childhood education programs, such as Grow Up Great, throughout Southeast Michigan, including Detroit.
Since 2009, PNC has given millions of dollars to kindergarten readiness programs and initiatives in the area. It also provides center-based and in-home "Just in Case Care" when employees' normal childcare is unavailable.
DeVore says that participation from the business community is an essential investment "in the future of our children, our communities, and our society as a whole."
The financial crisis marked a turning point for working families. Employees became expendable and more fearful of losing their jobs. De Beaufort says that we're more fragile as a society.
Heidi Reijm, a Detroit mother of two, says it was much harder finding care for her child the second time around. "Five years later, infant care was more expensive, harder to find, and notably, less racially diverse," Reijm says.
As a researcher with JFM Consulting, Reijm surveyed parents and caregivers about their needs and perceptions regarding equity and quality in early childhood education. She discovered that 90 percent thought preschool was important for kindergarten readiness, but only 34 percent had children enrolled because they couldn't find options in their Detroit neighborhoods.
"The system is just mired in so many challenges," she says.
Although government funded initiatives like Head Start and the Great Start Readiness Program are in place in Michigan, only 47 percent of children are enrolled. "There aren't enough slots. There's a huge gap between what's needed and what's available," Reijm says. Even if children are enrolled, parents still struggle with transportation and fitting in drop-offs and pick-ups with a conflicting work schedule.
And that's if families qualify in the first place.
The eligibility requirements for Great Start and Head Start programs in Michigan are some of the most stringent in the country. "It's a real dilemma for low-income parents," says Reijm.
"Pay now or pay more, later"
Without adequate social, emotional, and educational stimulation that early education provides, children and society will always be at a disadvantage, according to the widely publicized study from Nobel laureate, James J. Heckman.
"In our neighborhoods, somewhere between 17 and 25 percent of kids are ready [for kindergarten]," says Cindy Eggleton, founder of Brilliant Detroit. It's about 40 percent, nationally. "If you're not ready [for kindergarten], you never catch up."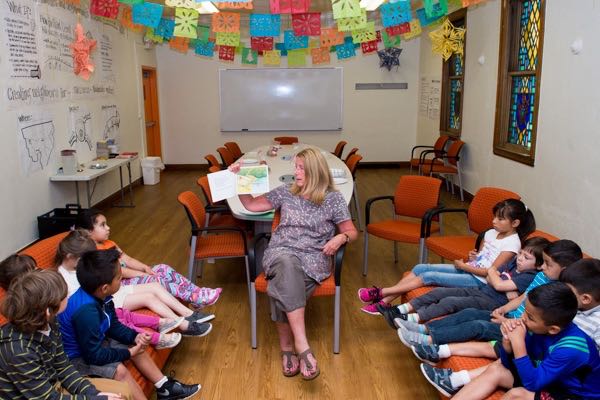 Science teacher Dianne O'Connor reads from a storybook at Brilliant Detroit
The problem is part politics, part perception. "[Early childhood education is] such a vital missing piece and yet hasn't reached the politicization of other issues," de Beaufort says. While it's difficult to make an investment with an 18 year wait, it's worth it. "We will be setting ourselves up to have fewer long term costs and a healthier, more prosperous community."
For de Beaufort, the message is loud and clear: "Pay now or pay more, later."
"When we're able to have a community and society that puts children first and honors this critical development time, we are preparing ourselves for a stable and strong future. It's a great public investment in people and in our future."
A city coming together
In the meantime, de Beaufort says that more than 300 organizations are working to figure out solutions to these issues.
This is the strategy behind Detroit's Hope Starts Here. Co-chaired by the Kresge and W.K. Kellogg Foundation, "[the collaborative is] a process to develop a framework and game plan for how the city will ensure that children and families are at the center of everything that happens in Detroit," says de Beaufort.
"It's [about] continuing to build political will, the public support, and continuing to engage with the community." Both she and Eggleton believe that the resources are there—it's just a matter of aligning them.
There are 80,000 children under the age of eight in Detroit and de Beaufort thinks this is a manageable number. By looking at cities that are meeting the needs of children successfully, such as New York, Cleveland, and Philadelphia, we can follow by example. "We're not dismantling a system that doesn't work. We're building on something that does work, it just doesn't work to scale. That gives me hope."
This article is part the series "Early Education Matters" on the importance of facilities and programming in early childhood education. It is made possible with funding from IFF. Read more articles in the series here. 
All photos, except of Nicole de Beaufort, by Sean Work. 
In 2015 the Brilliant Detroit Founders met. They bonded by a desire to create a radically new approach to kindergarten readiness in Neighborhoods. They saw that the best way to do this was to create a unique model delivery in how early childhood success was approached.
Jim Bellinson brought an amazing investment and scaling background. Carolyn Bellinson brought a focus on building people through clear pathways. Cindy Eggleton brought early childhood, impact and community expertise.
Together they envisioned what could be and then, while on a daily run, Jim realized that the underused housing stock in Detroit could be used to create early childhood and family centers in each neighborhood.  The homes would be a much more accessible and welcoming than the other institutional settings that were available.  They reached out to others for input and built a model that is with, for, and by neighbors to deliver holistic services for kids 0-8 in a home in their neighborhood with existing evidence-based programs around health, family supports, and education.
Brilliant Detroit was born to create kid success neighborhoods.
In each location neighbors come together for fellowship, activities and learning that assure school readiness, well-being and needed support for the families.
Key to the success is that the work is:
Family-centered.

Families work alongside staff to ensure programs and services meet the needs of families and support intellectual, social and emotional growth of their young children.  

Evidence-based.

Brilliant and our partner organizations utilize evidence-based, quality curricula that have proven to be effective, equitable and powerful among families and children.

Neighborhood-based.

Brilliant Detroit homes serve as community magnets and provide families and children with existing and consistent places to receive services and support.

Coordinated and continuous.

We coordinate existing programs and services in one place to allow families easier and better access to opportunities to learn, grow and thrive.  Opportunities that allow them to choose their own path.

Relationship-driven.

 Everything is based on relationships. With the neighborhood, with each family, and neighbor-to-neighbor.
Today over 1200 participants we know we are on to something. Importantly neighbors in each location own the movement. Maybe creating kid success neighborhoods was not so audacious after all.
Join us in creating kid success neighborhoods
Detroit's Southwest (SW) neighborhood is bustling with life: families strolling around each street, toddlers discovering their environments in public parks, and bilingual teens chattering in mixed language conversation. Yet despite the multilingual teenagers that live in the neighborhood, many of SW community's members are monolingual, thus preventing them from accessing certain services and navigating daily situations.
Growing up in SW Detroit, learning English is often not possible: its utility is not apparent, as SW's demographic is overwhelmingly composed of Latino families, making Spanish the lengua franca of the community. Furthermore, opportunities to learn English in a formal class setting are expensive and inaccessible, making it challenging for SW residents to enroll in English courses.
It is not uncommon for parents and their children to speak different languages, sharing no common tongue. As a result, communication between generations can be stilted and challenging. According to Evelyn, Garcia a Brilliant Detroit staffer, it is critical that children and parents maintain their native linguistic identity while also learning and developing English skills. Intercambio (Exchange), a new language-learning concept developed by Lenny Gross at Brilliant Detroit, does just that.
"As a student of Spanish language and culture, I often found that my language skills would fade over the summer, as I wasn't practicing in class, nor was I speaking [Spanish] with anyone," said Lenny. Intercambio brings native speakers of Spanish and students of Spanish language together for semi-structured, mixed language conversation. The project offers students of Spanish a space to practice their second language and conversation skills. In order to make the exchange equal, participants switch languages intermittently, allowing the native Spanish speakers opportunities to practice their English conversation skills too.
To be sure, many SW residents typically have some command over the English language. Yet many intercambio participants claimed that shame or lack of confidence prohibits them from speaking English. By providing a safe space to share thoughts and ideas, intercambio is helping SW residents and Spanish students learn more than second language conversation skills, but also how to share honestly and transparently without self-judgment. While I cannot promise that we are going to learn to speak perfect Spanish and English, Lenny tells intercambio participants, "I can guarantee that you will begin to overcome whatever prevents you from expressing yourself openly."
After running two sessions, the language exchange has already demonstrated its capacity to facilitate cross-cultural connection and breed acceptance. Lenny tells us that "when people of two distinct cultures come together, sit in a room and have no choice but to get to know one another, both parties typically walk away feeling like they have related and become more comfortable with one another – this phenomenon is amplified even more when the participants are forced to adjust their language to suit the other."